Youth Arts Festival Exhibits Student Talent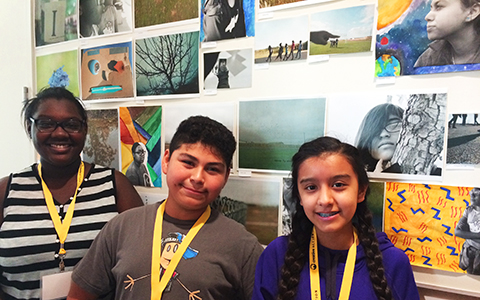 Creative Action hosted the 8th Annual Youth Arts Festival to celebrate art created by middle school and high school students in Central Texas.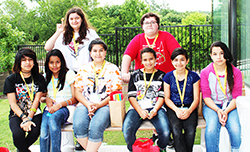 The festival featured work from more than 20 area schools and included a performance from Creative Action's teen theater ensemble, Changing Lives. Exhibits included films, murals, photographs, writing and theatre created by students during the course of the school year.
Decker Middle School presented a large-scale digital collage, "My Manor", that celebrates their town, school, and reflec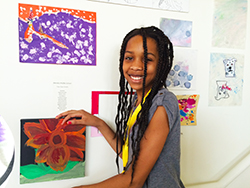 ts upon the relationship between the city of Austin and its neighboring communities. Lamar Middle School created an ambitious collaborative multi-media art installation that combines elements of animation, craft, musical improvisation and poetry. Throughout the semester, the student artists gave particular attention to themes of selfhood, intuition, and community.
Creative Action's Teen Program Color Squad exhibited their work from the semester. Color Squad teens have designed a colorful mural reflecting the theme "Map Your Roots/Routes" that they will install on the back of the Center for Creative Action. The mural will run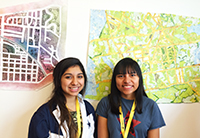 along Austin's urban rail line and will be seen and enjoyed by hundreds of commuters and visitors to the area daily.
Del Valle Middle School's film class was proud to premiere their new film, "Light My Fire," at this year's Youth Arts Festival. "Light My Fire" is a story about relationships, friendship, and identity. The students explored the way relationships form in their school community, and the way those relationships absorb the individuals involved. West Ridge Middle School students premiered their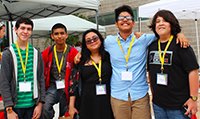 film, "The Cinematic Life of Julia Kane, " shot partially in 3D. Burnett Middle School debuted their original song and music video for "Can I Trust You?," an exploration of how fame and rumors coexist. Lanier High School presented their award-winning short film, "CURES," exploring the theme of creating a more just world. View all of the student films on the Creative Action Vimeo page.
We are so proud of the work our students produced this year! It was also amazing to see how youth from all parts of the Austin community came together to view each other's works of art and support their growth in a particular medium. These students had the opportunity to create new friendships and become part of the Creative Action community. Thank you for your support in making events like this possible. See more photos from the event on our Flickr page.